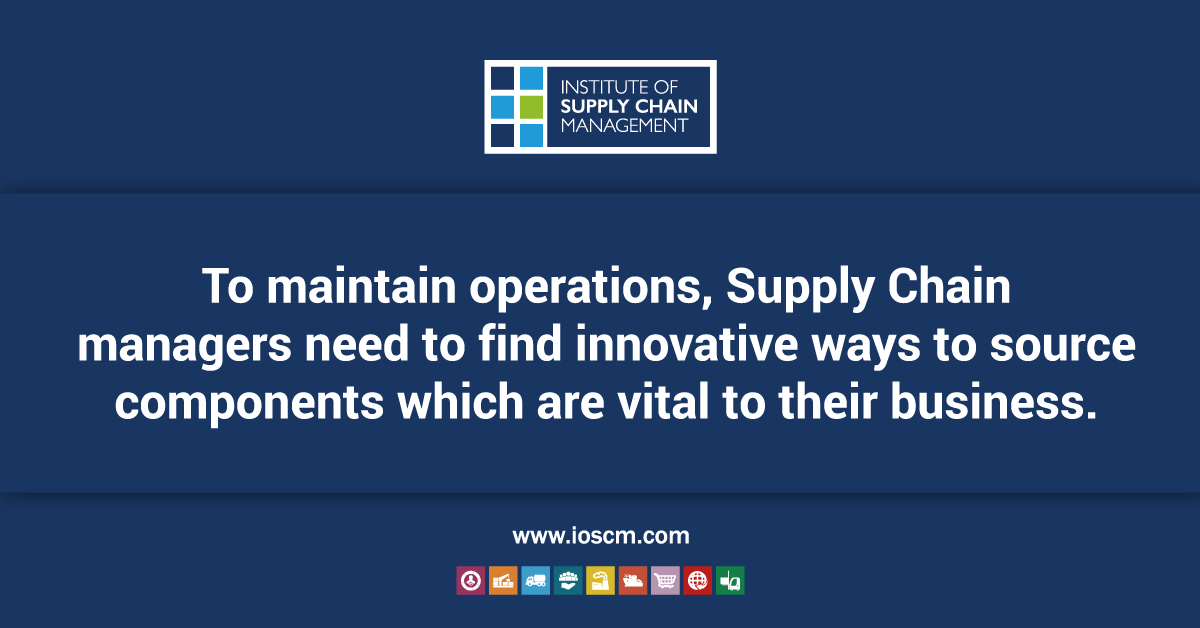 Supply Chains are already facing severe shortages of raw materials and supplies, which are vital to their manufacturing processes following the extended shut down in China. Where along with south-east Asia, over half of the world's goods are now produced. To maintain operations, Supply Chain managers need to find innovative ways to source components which are vital to their business.
As panic levels rise and consumers continue to stockpile essentials, a visit to a local supermarket quickly confirms fears that supply chains are struggling to cope with the increased demand paired with shortages on the production lines.
In some cases, it may be too late to introduce mitigation strategies. Energies might be better focused on tactics that will prevent the impact from increasing.
"There is likely to be a temporary disruption to our economy. On the supply side, up to a fifth of the working-age population could need to be off work at any one time and business supply chains are being disrupted around the globe," he said.
"This combination of people being unable to work and businesses being unable to access goods will mean that for a period, our production capacity will shrink." Rishi Sunak UK Chancellor.
There are steps Supply Chain managers should take in the coming days if they haven't already,  to future proof their businesses and prepare for the coming months.
Carry out a full analysis of your Supply Chain.
You'll need to know your suppliers, suppliers so you can identify any weaknesses and exposure to affected countries and areas. Take a note of current inventory levels, production outputs, your workforce; consider requirements relating to them as individuals following the recent government guidelines, and logistics requirements, as well as customer expectations in terms of delivery timescales and deadlines. Once you have completed a full analysis you can begin to look at where you need to prioritise resources.
Establish and encourage channels of open communication with your key suppliers, and where possible your wider supply chain.
Having insight into potential challenges they are facing can help you manage the impact their issues could have on your operation. You may be able to pool resources or connect your suppliers with each other to enable them to access additional support not previously available. This in turn, could mean each supplier is better placed to meet your requirements.
Now is probably not the time to be lean when it comes to inventory, if possible build up levels of stock and supplies.
With manufacturing across the globe operating at lower output levels, sourcing alternative suppliers to support your production could be a viable option, especially if these are companies more local to your business.
Monitor marketing demand.
Depending on the type of product you manufacture, the market demand may fluctuate with many individuals facing uncertainty with their employment status, large gatherings cancelled, and isolation restrictions being increased. There is likely to be a decline in the requirement for items viewed as "luxury." However, in times of worry, many of us turn to comfort food and therefore, the demand for chocolate will probably surge. These levels will have a ripple effect across the global supply chain.
Monitor your logistics operations.
Every country around the world is introducing measures to keep its citizens safe. These steps are going to have consequences for logistics. Delays at the ports, and on dry land can and likely will further impact operations for many supply chains. These considerations should be factored into communications with customers to prevent disappointment when delays affect the level of service you have promised.
Utilise advances in technology.
Modern businesses are built around capabilities in technology. Use the systems available to monitor and manage your supply chain, analyse and forecast current and future demand, and most importantly protect your most significant asset; your employees.
Reducing face to face meetings, and visits to your premises, introducing remote working where possible, and other options such as staggered work schedules to prevent the workplace from being part of the rush hour commute. These can all be introduced and managed effectively through the right technology.
Make sure the price is right!
As suppliers decrease and government-led restrictions are introduced, costs for raw materials, finished products and services (such as logistics) will likely begin to increase.
Supply chain managers will need to keep a close eye on their costs, and their bottom line to protect their businesses and their customers in both the short and long term. Unscrupulous companies will be remembered a long time after the pandemic has been curtailed, and these organisations will do themselves no favours in the long run.
Last, but certainly not least, Stay Safe.
Whatever challenges you are going to face within the supply chain, you must take precautions to protect yourself and your team where possible to minimise the risk of you becoming unwell.  Ensure you have robust plans in place for dealing with any disruption caused by key members of your team becoming ill (including the impact this could have on other employees who have been working in close contact). Introducing robust cleaning routines for the workplace and follow guidance from medical professionals on hygiene for the team members, and yourself would also be a good measure if you do not already have them in place.
These steps are not an exhaustive list, depending on the nature of your business and the market requirement for your products you could see an increased demand in the coming months, it could be business as usual or, in some cases, organisations may decide to halt production.  For some supply chain's there could be government restrictions that require you to suspend operations as part of the bid to stop the spread of Covid-19. Whatever position your business is in, there is a lot of support and guidance available for companies, of all sizes, and individuals. Please ensure you refer to reliable sources to stay up to date with the requirements.
The IoSCM Coronavirus toolkit is a great place to visit for signposting to relevant, trusted sources. In the toolkit, you will find useful guides and support for businesses to manage through these unprecedented times and for individuals who find themselves working from home or being furloughed. You can stay up to date with the latest developments relating to Covid-19, find a wide array of expert guides to help you as a professional, an individual and a business. The Covid-19 toolkit has been created by the experts at the Institute of Supply Chain Management as a free resource, available to everyone. To gain your free access visit https://www.theioscmhub.com/covid-19-toolkit-registration/