At the Institute of Supply Chain Management (IoSCM), we understand that leaving the military can be a daunting time, with so many career options to choose from when you're deciding what to do next.
The Enhanced Learning Credits Administration Services (ELCAS) scheme is a great way to take advantage of training to prepare you for your next steps, but with so many different courses available, it can be a challenge to choose the best way to invest your credits.
The good news is, we're here to help you every step of the way. We offer a wide range of accredited qualifications across a variety of subject areas, so you can get the qualifications you need to progress your career in the right direction.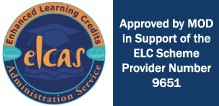 SUPPLY CHAIN MANAGEMENT COURSES
If you're thinking of transferring the skills you've gained in the military to a career in supply chain management, we offer a range of courses which can help you get where you want to be. Our Supply Chain Management courses are available across a range of levels and subject areas, so you can get the qualifications you need to kick start your new career. From entry-level through to strategic leadership, whatever sector of the supply chain you are interested in, we can support you with gaining the knowledge you need to exceed in an exciting industry.
LEADERSHIP AND MANAGEMENT COURSES
At IoSCM, we offer a full range of Leadership and Management courses, so you can certify your existing skills, progress your career or move into a management role in a brand-new setting. We offer accredited, ELC funded qualifications ranging from Level 3, all the way up to Level 7 designed to provide you with the transferable skills you need to excel in a leadership role.
LOGISTICS COURSES
If you've been responsible for coordinating large-scale operations in the military, a career in logistics could be the ideal next step for you. Here at IoSCM, we offer a variety of Logistics and Transport courses so you can certify your existing skills and learn new ones to help you with your next career move. If you are new to logistics, there are a variety of exciting career opportunities available. Our courses are designed to enable you to study the subjects that are important to you and your career development.
WHY STUDY WITH IOSCM?
For even more reasons to choose IoSCM, take a look at our guidance on why you should invest your ELCAS credits with us. If you'd like to know more about what studying with IoSCM is like, we've also gathered a range of ELCAS case studies from military personnel at all levels, so you can find out all about their experiences.
HOW TO APPLY
Applying for an ELCAS course might seem confusing, but we're here to guide you through the process to make it as straightforward as possible. To find out more, take a look at our step-by-step guide to the ELCAS application process, which explains everything you need to know. We've also put together a guide to how ELCAS funding works, so you can understand exactly what to expect from a financial point of view.
FIND OUT MORE
If you have any questions, we're here to help. Please get in touch with our friendly Course Advisors, and they'll be happy to help you find the best course for your needs, and explain anything else you need to know about the ELCAS application process. Telephone 0800 1422 522 or complete to contact form on our website to find out more.
We can't wait to help you progress to the next exciting step in your career!