Wednesday 1st May 2022
PRESS RELEASE: Available for immediate release
A new initiative focussed on making the supply chain a worthwhile, exciting, and viable career choice for the next generation of the workforce.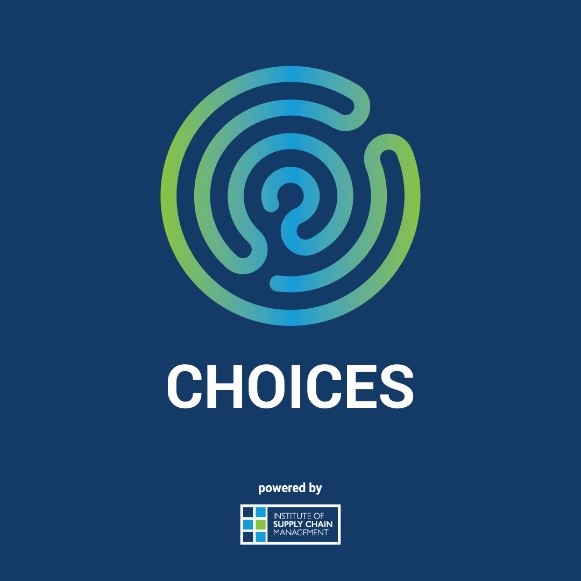 Newcastle Upon Tyne, England, May 1st; The Institute of Supply Chain Management (IoSCM) have today launched a brand-new youth education programme, Choices, designed to showcase the breadth and depth of fantastic career routes available within the global supply chain.
As the global supply chain continues to advance, the need for skilled workers with fresh ideas, modern approaches and new techniques remains a firm priority across the industry. For businesses of all shapes and sizes, there is a consistent challenge to employ and retain a workforce to meet their strategic objectives. Ideas like promoting from within, employee development programmes and apprenticeships have all been great ways to develop the skills and knowledge of employees; however, there is still much work to be done to achieve longevity within the industry.
When we consider challenges like the ever-shrinking talent pool, the lack of overseas employees willing to relocate, an aging workforce and that fact that many businesses are competing with more 'glamorous' industries, the wider supply chain needs to do more to entice new professionals to join the ranks.
Question; How do we fix the talent shortage in the supply chain?
Answer; Lets make the supply chain a first-class career option for future generations.
Following in-depth consultations with our clients, members, other providers of education and recognised bodies that work within the British education system, IoSCM understands the vital need to introduce the supply chain, and the wide range of interesting career routes it offers, to younger members of society to help them plan out their next steps and make informed decisions when preparing to leave the school system.
Career Days, open days at colleges and universities, and visits from local companies are often ways school aged children are introduced to the world of work, yet, this means many of them are unaware of the wide range of career opportunities available to them.
"IoSCM's brand new programme Choices is designed to change this misconception. By bringing the supply chain to life, in an easy-to-understand way, we can educate a younger audience on the global supply chain and the range of job opportunities this has created across the world.
Joining Choices is free and following a quick and easy sign-up process, members of the Choices programme will receive all the information they need to understand what the supply chain is, how it works, and why it would be a first-class career path. With a range of resources that break down the sectors within the industry, a variety of job-roles showcased, and behind the scenes insights from professionals working at different levels and at different stages of their careers, Choices is a great introduction to the supply chain for the younger members of society." – Jacky Smith, CEO, IoSCM
By equipping school-aged children and young-adults with a real-life insight into the global supply chain and helping them understand how much everyday life relies on the industry, they will quickly become aware of the opportunities available for them in the future.
"Whether it's browsing online, doing your food shop, or going to a festival or concert, modern life relies on the supply chain. Until COVID-19, many people outside of the industry were unfamiliar with the term, and how it impacted on them as individuals, or in their places of work. Now the world is aware we need successful supply chains, and Choices is designed to attract the brightest young talent to the industry, better preparing us for the challenges and opportunities that lie ahead" – Megan Slater, Head of Business Development, IoSCM.
Working with businesses of all shapes and sizes, education providers, youth groups and a range of organisations, the IoSCM team are looking forward to extending the reach of the Choices Initiative to include as many young individuals as possible.
Choices is FREE and available to anyone under the age of 21. Joining up is quick and easy. Simply follow this link; https://www.ioscm.com/ioscm-youth-initiative
Last month members of the IoSCM team attended a local careers fair hosted by a college in the region. We had the opportunity to talk with students from different schools, colleges and backgrounds and talk to them about their choices and why they should consider an exciting career in the supply chain. It was great to receive fantastic feedback about the programme and how it will help young people to see the supply chain as a great career route for themselves.
"The Student Progression Team would like to say a big thank you to everyone who attended our 'Your Future' Fair. It was a fantastic day and a pleasure to welcome so many of you to our wonderful College! We have received lovely feedback from staff and students.
The event provided an excellent opportunity to explore career routes, employment opportunities and to network with professionals from a wide range of sectors, inspiring many of our students and visitors!" – Emma Tate, Progression Coach at Bishop Auckland College
If you would like to discuss working with Choices or how our team can support ongoing work, you are doing with young adults please email info@ioscm.com
About IoSCM
IoSCM is dedicated to supporting and developing individuals, businesses and the global supply chain profession as a whole, we offer a range of services and products with the main aim of creating a better future for the supply chain and those who work within it.
Through our industry-leading qualifications and membership benefits, we equip those in the field with the knowledge, skills and capability to enrich their career. Consequently, advancing the supply chain through improved performance.
As an institute, we're passionate about representing the wider supply chain by setting quality standards through our courses and promoting best practice through the publication of our resources. Visit www.ioscm.com to find out more about what we do, and for further updates on our plans.
ENDS
Note for newsdesks:
For further information, please contact Kimberley Jayne on 0800 1422 522 or email kimberley.jayne@ioscm.com