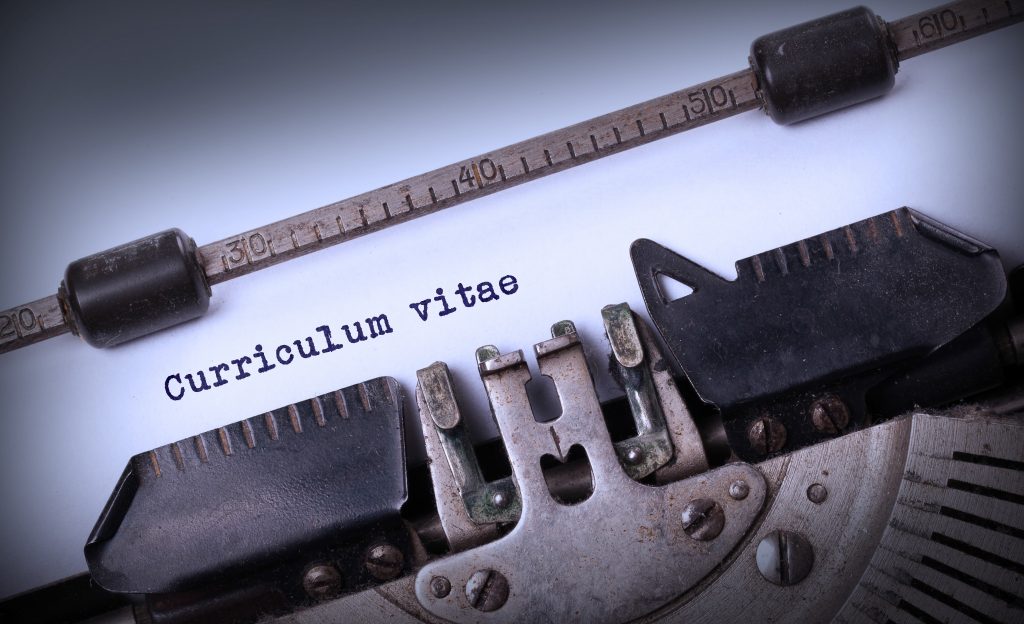 The supply chain industry provides great opportunities for career development and advancement. So if you are not satisfied with your current job, don't hesitate to start looking for a new one. Write a winning supply chain resume, and you will get the job of your dreams.
Need help with resume writing? We've got you covered! Here is a step-by-step guide for you to create an outstanding CV.
Provide contact information
The header of your resume should include your contact information:
Keep in mind that you shouldn't specify your postal address as well as your age. Such information doesn't add any value to your resume, so you should exclude it.
Analyse supply chain job descriptions
Before you write the next sections of your resume, you should do the following:
Visit job search websites and find a few jobs that match your preferences and your qualifications.
Review descriptions of these jobs. Try to understand how employers see "an ideal candidate" for these jobs.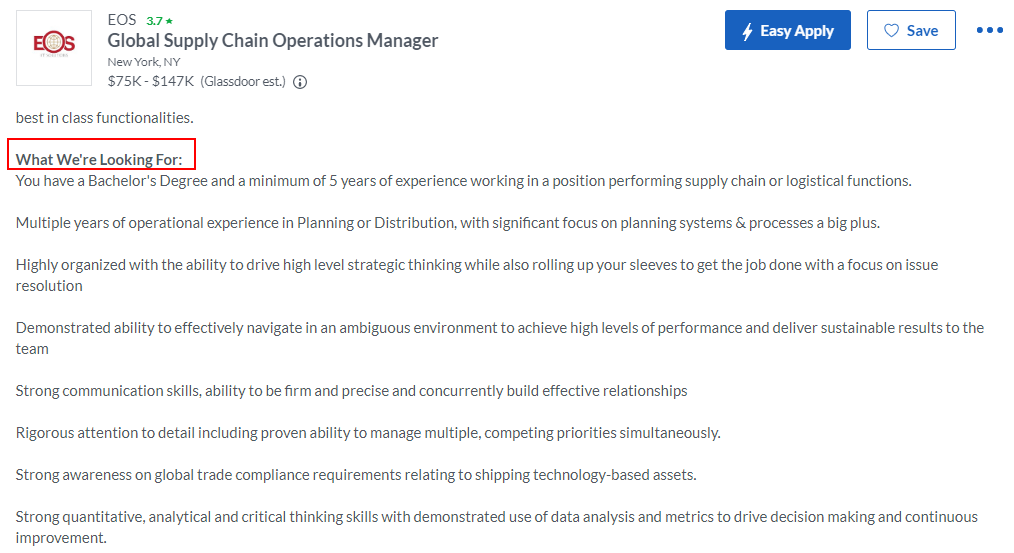 Screenshot source: https://www.glassdoor.com/job-listing/
Think of what information you should include in your resume to convince recruiters that you're a perfect fit for the job.
Job market analysis is essential for writing a winning resume. The better you understand what companies are looking for in supply chain managers, the more effectively you will "sell yourself".
Write a summary
A summary is one of the most important sections of your resume. It gives recruiters a quick overview of the high points of your resume and indicates the level of your expertise in the field of supply chain management.
Your main task here is to present yourself in the most favorable light and convince the recruiter that your resume is worth paying attention to.  If you fail this task, the chances are the recruiter will not read your resume till the end.
This section should be only two or a maximum of three sentences long. Writing a summary, you should highlight the following:
Your background
Your most significant achievements (one or two) in the field of supply chain management
Your desire to help the employer achieve the specific goals.
Describe your experience and skills
Trying to impress recruiters, job seekers overload their resumes with too many details. They describe every role they have ever taken and every task they have ever completed.
The truth is that recruiters don't really care about your previous jobs. The only thing they care about is whether you have enough experience in a specific niche to complete concrete tasks.
Let's consider a simple example. It will help you understand how you should write about your experience.
The company is looking for a professional who can develop new supply chain models and has high negotiation skills.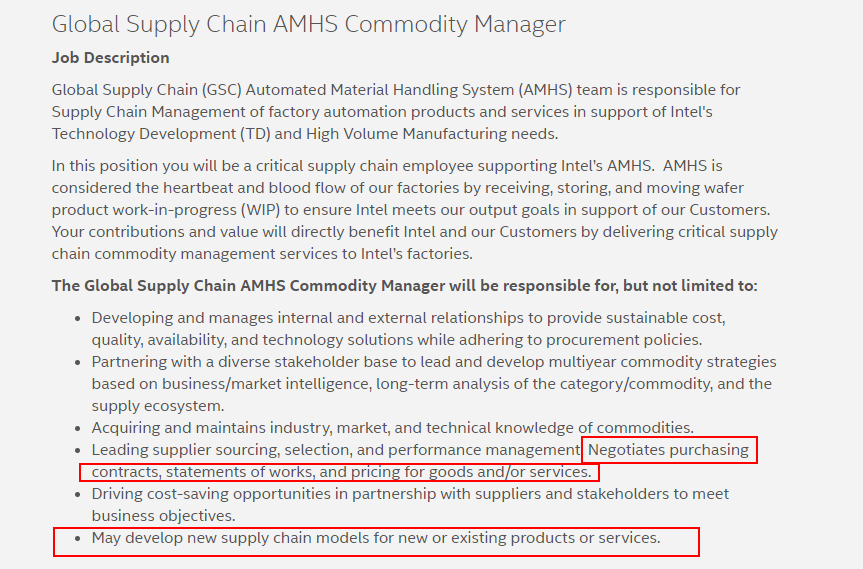 Screenshot source: https://jobs.intel.com/
If you add the following lines to your resume, and you will show recruiters that you are a perfect candidate for this supply chain job:
Developed a new supply chain model for X product and reduced transportation cost by 15%.
Negotiated 50+ purchasing contracts with suppliers from 10+ different countries.
Negotiated a lower price for X product and saved the company nearly $50,000.
Basically, you don't need to write about the tasks you were responsible for at your previous job. You should focus on the results of your work – your professional achievements that you can quantify. It's a great way to show your worth as an expert in supply chain management.
Write a cover letter
A resume is not the only thing you need to get your job application noticed. You should also write a cover letter that will complement (not duplicate!) your resume.
Writing a cover letter, you should introduce yourself, mention the job you're applying for, and, most importantly, explain how your experience and skills match the experience and skills needed to do the job. If you persuade a recruiter that you can benefit the company, the recruiter will read your resume.
You should write a unique cover letter for each job you apply for. If you are too busy with other tasks, you can order cover letter writing online. Just send your resume to professional writers, and they will write a cover letter for you.
Make your resume ATS-friendly
As you probably know, modern recruiters use Applicant Tracking Systems (ATS) and other tech solutions to manage high volumes of job applications. ATS electronically scan resumes, score applicants' qualifications based on the designated job description, and rank the application.
ATS make the resume screening process easier for recruiters but raise new challenges for job seekers. According to statistics, 75% of job applications are rejected by ATS before recruiters see them.
Therefore, if you want your job application to beat the ATS, you should optimise your resume. Here are a few tips on how you can do it:
Save your resume in .doc or .docx format rather than PDF. Some ATS can't extract information from PDF files, especially when files include lots of visual content.
Add relevant keywords:

Supply chain experience
Supply chain management
Procurement
Vendor management
Forecasting
Inventory management
Continual improvement process
ERP
Production planning
Compliance

Use simple bullet points to structure your resume.
Proofread your resume
Neither recruiters nor ATS tolerate poor grammar. So be aware that if you have a couple of typos in your resume, you will be unlikely to pass through the gate of ATS and make a good impression on recruiters.
You don't want to miss a chance to get the job of your dreams because of a few spelling errors, do you? Proofread your resume and cover letter thoroughly and use online grammar checkers. Polish your resume, and you will increase your chances of getting an invitation to a job interview.
Wrapping up
The quality of your resume decides the results of your job search. You can be sure that if you write a winning supply chain resume, you will get hired by a company you admire.