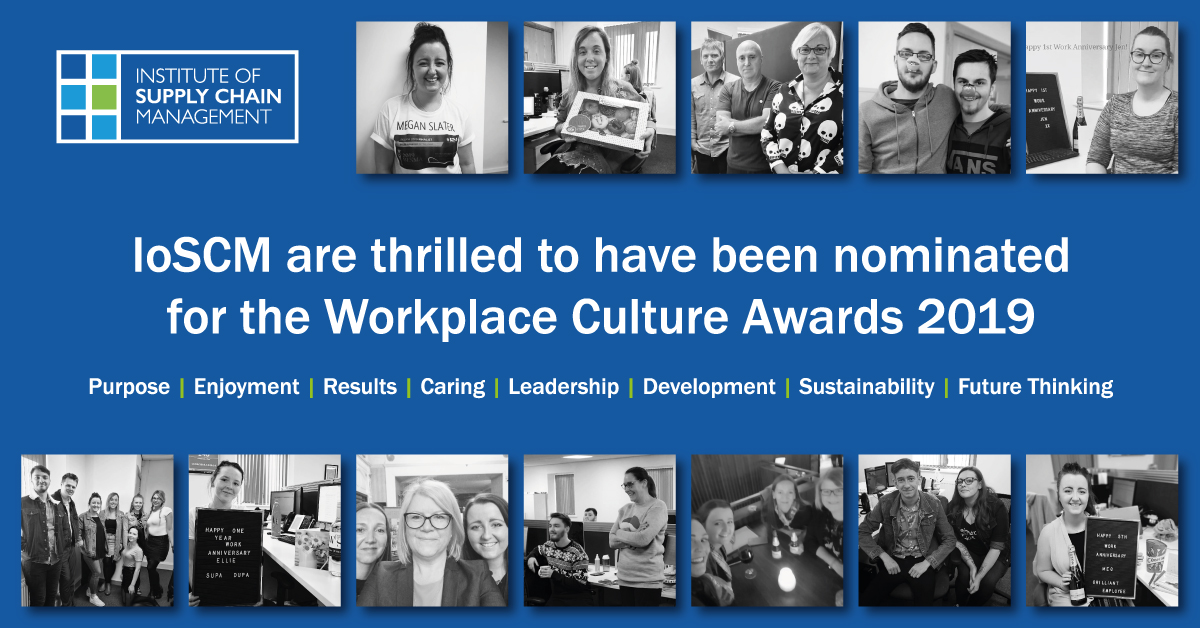 Retaining the talented employees you need to be prosperous as a business should always be at the top of your to do list. Competition to attract skilled professionals to join your team is at an all time high as the 'talent pool' is shrinking. Once you have successfully recruited the team you need, the hard work really begins, as more and more businesses are beginning to understand the real value of employee retention.
Modern workers are looking for much more than an attractive salary package, increasingly we are hearing that it's the other benefits that organisations provide that today's workforce are interested in. In short, workplace culture has never been more important. As an employer ensuring you are creating the right environment in your organisation is vital, not just to retain your employees, as after all a happy workforce = A productive workplace.
Here at IoSCM, we have always believed we have a great workplace culture, so we were delighted to find out that we had been nominated for the Perkbox Workplace Culture Awards 2019 and we were even more thrilled when we received the news last week that we have made it through to the final. The winners are due to be announced on 9th December. We would like to take the opportunity to wish all of the other finalist's Good Luck from all of the team at IoSCM.
In the meantime, we thought we would share some of the ways you can create a great workplace culture;
Treat your employees with respect. Now this one may seem obvious however many workplaces underestimate the value of communication within the workplace and of appreciating that each employee is an individual with their own lives outside of the workplace.
Manage up. It's vital that your team members each feel empowered within their individual roles to take action or make decisions (where applicable) to help your business provide a positive customer experience. In other words the employees on the front line should feel confident that they can tell their leaders and managers what they need to excel in their jobs. This approach should be adopted across an organisation instead of micromanaging the team reporting to you.
Flexible working. The tradition 'office hours' are fast becoming a thing of the past. Employees now expect flexibility within their working day. Don't offer this in your workplace and you risk your skilled workers leaving to work for an employer that understands each individual has priorities outside of work that sometimes make it impossible to avoid a clash of commitments. By offering flexible working you are providing them with the ability to manage both their work life and home life effectively.
Remote working. As with flexible working, many employees and their employers are beginning to value remote working more than ever before. Cutting down on the daily commute, reducing your environmental footprint, the ability to work from the comfort of your own home are just three of the benefits remote working provide. Let's face it, who wouldn't feel less stressed without the rush hour dash to the workplace each morning?
Open door policy. Managers sitting in their Ivory towers are a thing of the past! You need to ensure you are providing an atmosphere where your team feel comfortable approaching you with suggestions, feedback and/or issues. Sitting away from your team in an office with your door closed can make you seem closed off and unwilling to engage with your team. Whilst there may be times this is a necessary approach try and spend some of your time where you are easily accessible for your employers.
Benefits scheme. Let's face it, money talks! However budgets are often tight and providing commission and bonus schemes is not always possible, don't worry there are other ways you can create an employee benefit scheme. Extra days holiday's, early finishes, medical care, and free eye tests are great benefits you can introduce for your workforce.
Workplace events and Social gatherings outside of the office.  A buffet, team building activities and even dress down days are great ways to create a great workplace culture, they are subtle ways to show your team they are valued and their happiness is important to you. Never underestimate the power of cakes or lunch on the boss!  Arranging social gatherings away from your usual place of work can be a great way to do this. There are many events and activities that take place across the country, many of which are not alcohol related, to ensure there is something for everyone. These events do not have to be at cost to the business, often employees are more than willing to pay to attend an event, even if it is just an evening meal at a local pub.
Employee/Team of the month. Introducing an employee of the month award is not only a great way to recognise the hard work of individual team members or teams it also shows that the people within your business matter and the actions they take are noticed, for all the right reasons. The award can be as low cost as a certificate or an additional days holiday through to a cash prize, depending on your budget. You could award a certificate for the monthly winner and then have an Employee of the Year with a bigger award value.
Early Wage Access (EWA). The newest way to stand out as an organisation that values their employees is to offer employees the ability to access their wages at any time within the month instead of waiting until payday. There are already a number of companies that are providing this service to businesses, of all shapes and sizes, and big brands are climbing on board to be able to offer this flexibility to their team. The EWA takes away the stress some employees may face waiting for their payday to arrive. It is forecast that by 2021 over 75% of the UK workforce will expect this feature will be available to them. As a business offering this service to your team is yet another way you can show your employees you value their welfare and further improve your workplace culture.
Training and development. Last on the list but definitely not least is the investment into the development of your employees. Upskilling your team, promoting from within, and progression planning are vital for longevity of a business and a great way to demonstrate to your employees that they matter. In the words of Richard Branson "Train people well enough so they can leave. Treat them well enough so they don't want to".
Don't forget – If you need any help with creating a great workplace culture our experts can help. Why not speak to a member of the IoSCM team today to find out more?