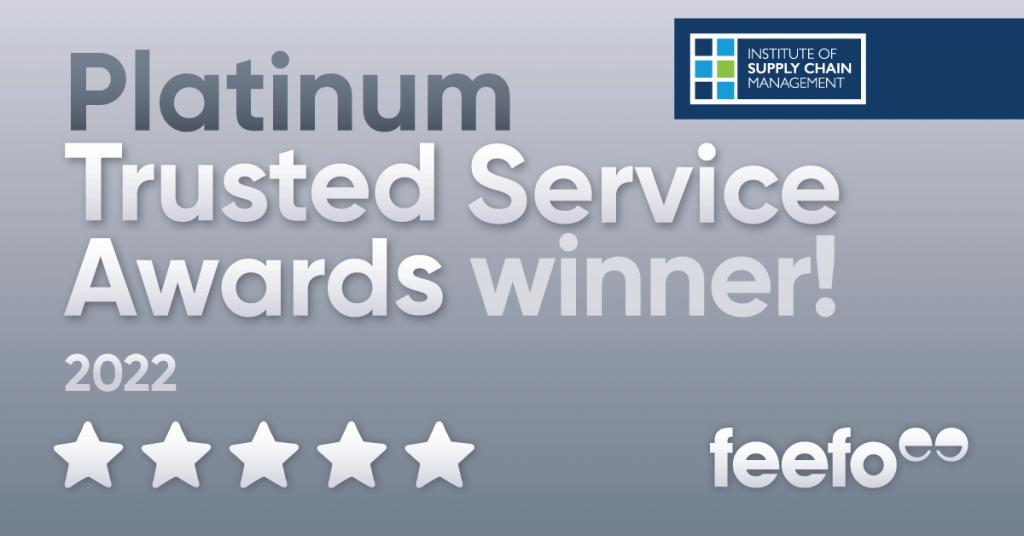 IoSCM are thrilled to announce that we are winners of the Feefo Platinum trusted service provider awards 2022 based on feedback from real people and clients sharing their genuine experience with IoSCM.
Who are Feefo?
Feefo are a globally recognised independent review website, gathering feedback on businesses of all shapes and sizes to support customers with making purchasing decisions they can be confident about. Unlike other review sites Feefo take careful steps to ensure reviews can only be left by real customers, with invitations sent directly from the Feefo platform. Businesses utilising Feefo to gather feedback and reviews have to be able to prove that they are providing Feefo with accurate customer data only to make the review requests. Feedback is received directly by Feefo and visible on their website to anyone searching for a brand or business to find out more about them.
"We are a reviews provider, committed to collecting real customer feedback on behalf of the businesses we work with. To stop people from leaving dishonest or fake reviews, we contact customers directly following their experience and invite them to leave a review; that review, whether good or bad, is then uploaded to the business's Feefo page for all to see." – Feefo
A True Review?
In this digital age, reviews often play a key part in attracting new customers to a business. Many of us carry out independent research to find out the experiences other people have had before investing any of our own money. Knowing when reviews are from genuine customers and not the company owners neighbour can be tricky; however, trusted review sites such as Feefo are working tirelessly to provide the safety and confidence we need to make informed buying decisions as consumers.
"You can't just create an account and leave a review like you can on some other sites. We send out personal feedback requests on behalf of businesses to make sure that the reviews we collect are from the actual experiences of real customers." – Feefo
Are you hiding your bad reviews?
Using a site such as Feefo means we have to be willing to receive negative feedback. As an Institute we always aim to provide customer satisfaction in everything we do. Of course, there may be occasions when something doesn't go to plan. Should that happen, our team will do all they can to correct and address any negative impact on our members, learners or clients. By providing us with feedback, both good and bad, we can continue to build our levels of customer satisfaction, and develop the levels of support we provide. Negative feedback is an opportunity for us to get it right next time.
"Feefo does not allow businesses to filter out negative reviews. A business has the right to choose which reviews they wish to display on their own website, but we will publish every review that is collected on their Feefo reviews page regardless. Even if a business only chooses to display their positive ratings, every piece of feedback they receive, whether good or bad, will contribute towards their overall Feefo rating." Feefo

We are delighted to win the Feefo Platinum trusted service provider awards 2022, but how does that help you?
The Feefo awards are judged based on ratings a provider has received from their customers in the past twelve months. In other words, they shine a spotlight on businesses who demonstrate an outstanding service to their customers and who consistently receive high feedback scores and results. Now there are different categories of award, and having won Feefo Gold trusted service provider in 2019, 2020, and 2021 we were absolutely delighted to find out that this year we had won a PLATINUM Award for 2022.
How do I see the reviews you have received?
All Feefo reviews can be viewed on the Feefo website; however, as we are really pleased with the feedback we receive, we do also share the reviews on our website homepage and across our social media channels. In addition to Feefo reviews we ask learners to provide us with case studies and testimonials to share their learning journeys and individual experiences, and we feature these in issues of our magazine Supply Chain Outlook.
If you are looking for feedback on learner experiences relating to particular units of study, levels of qualification, course delivery or more generalised experiences, our Course Advisors will be delighted to share this information with you or direct you to its online location.
IoSCM are proud to be transparent, open and honest and remain committed to outstanding customer service in 2022 and beyond. Thank you Feefo for awarding us with this prestigious accolade and Thank you to every learner and client who shared their personal experiences with IoSCM on the Feefo review site.