Why Choose a Career in Supply Chain Management?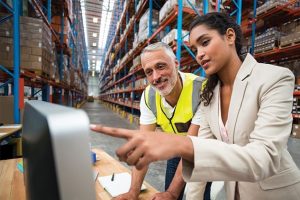 The logistics industry is a significant ingredient for the economic growth and development. Nowadays, the connection between the seller and consumer has become more complicated and elongated. In the present fast-paced market, global companies are progressively reviewed not only on the value of their services or goods but also on the efficiency and pace in which they distribute them. The major challenge of logistics and supply chain management is how to transport the right product to the right place at the right time and cost.
Those who work in the in the field of logistics and supply chain management ensure that goods and services arrive in a timely manner in the hands of the consumer safely. All kinds of industries and businesses, whether they are large or small, need logistic managers to work with inventory and accounts receivable departments. Depending on the size, a small business may only have one person in charge of these duties, while bigger corporations will have full supply chain and logistics departments. Read on to learn more about the various reasons to choose a career in logistics and supply chain management.
Make Contacts
Many people who start a career in logistics and supply chain management quickly gain enough experience with international business to build up new skills or discover new career opportunities. Learning an additional language is easier when you work and communicate constantly with people who speak that language. Moreover, it may also be possible to move to other countries permanently or for the time being.
The logistics workers make contact with a broad range of people, both locally and overseas, that creates new associations and networking opportunities. This vastly benefits those individuals who wish to shift into a career in international business. By working in logistics and supply chain departments, people learn a lot and reach a level where they can communicate in a host language and recognize the diverse laws, and cultures of that country.
Get Adjustable Working Schedules
The majority of logistics activities take place other than usual office hours. Whether you are controlling or supervising warehouses, driving goods across the country or managing official contracts with clients, there are plenty of opportunities for staff to organize their own work schedules around their ideal working times, allowing them more flexibility and authority.
Advancement Opportunities
The prospects to progress in the field of logistics and supply chain management are as strong as any. The logistics industry has a lot of aspects and levels, so chances for career advancements are always available. Additionally, the logistics industry generally encourages and prepares low-level employees to high-level positions rather than employing someone new from the outside. Also, the promotions are very common, and the hardest working employees can expect to go forward rapidly.
The people who work in the logistics field learn about operations from the very start and improve their career prospects through the plenty of experience available. For example, warehouse operatives and drivers can easily adapt and incorporate various skills, experience and qualifications which will help them to get a promotion to other positions such as technical, managerial and supervisory roles.
Choose from a Variety of Industries 
If you wish to pursue your career in supply chain management, you have various options available to choose from. There are many industries which completely or partially depend on the pure logistical operations. Some of the examples are wholesaling, warehousing, postal services, home decoration, hotels, healthcare, construction, dairy, retail, forest Industry and much more. Also, the sectors of employment in logistics and supply chain management vary from large corporations or small businesses to NGO's or federal government. A career in logistics and supply chain management will set you up with a steady career with the variety of different industries.
Begin Anywhere
Usually, the careers in logistics and supply chain management can begin anywhere, unlike some careers that need you to change place to a specific area, state or country. Moreover, the nature of the logistics industry allows any individual to be based practically anywhere around the globe. This is simply because of the high demand for logistics workers that most companies need all over the world.
Author Bio:
Selena Aria is a former training and development teacher at Assignment Help Australia and presently working as a senior content editor at Custom Essay. She has written many articles on various aspects of logistics and loves to share her knowledge with others.