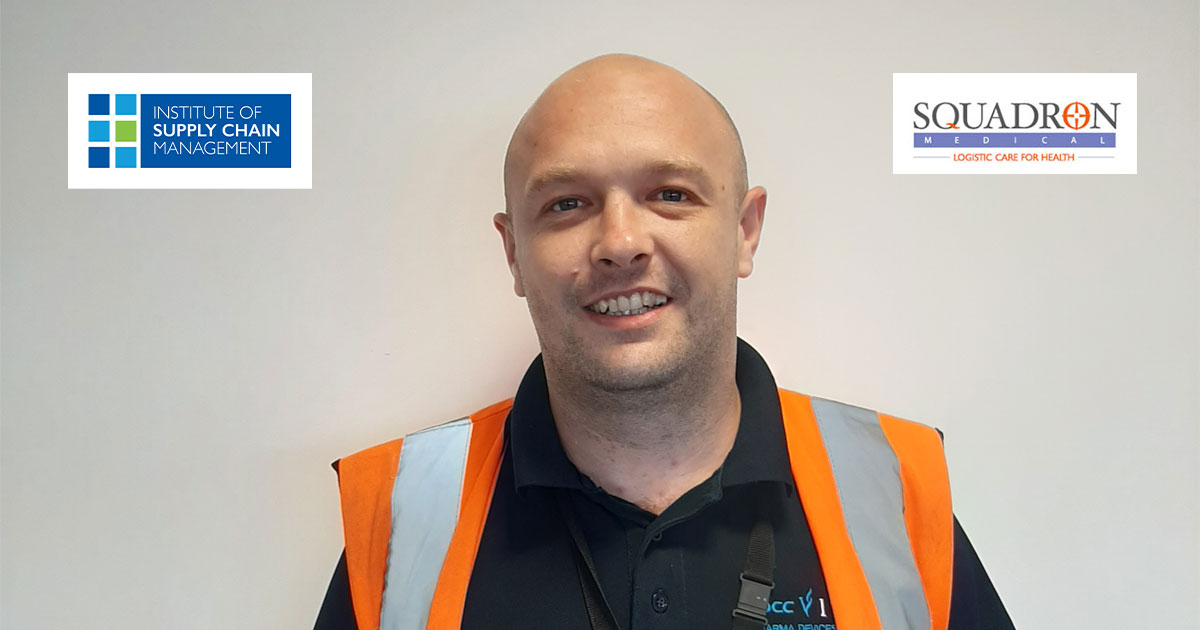 David Richardson is the Warehouse Manager for Squadron Medical. After progressing his career within Squadron, David recently embarked on an IoSCM Level 3 Diploma. Now he has achieved his professional qualification, David has taken some time to tell us more above himself, his career progression and why he chosen to further enhance his knowledge of logistics and the supply chain with IoSCM.
Thank you for taking the time to speak with us David. Can you tell us more about yourself? 
I am 30 years of age. I have a partner Jodie & a 2 year old daughter. I am a keen football fan of Manchester United. I also enjoy watching sport & spending time with my family.
Can you tell us about your current job role and what it involves? 
In my current role as the Warehouse Manager  for Squadron I have had to look at several different things which to do successfully meant i needed to developed myself in my role.
My area's of responsibility include;
Productivity / Accuracy of picking / errors & feed back to my staff with one to one discussions.
Budgets – learning about my monthly budgets with regards costings / maintenance / wages etc.
Customer service / satisfaction – dealing with customer issues / solutions to any issues that may need dealing with.
Visiting customer sites to meet the end user.
Visiting suppliers to report back on current deliveries.
Can you talk us through your career progression David? 
I have worked with Squadron Medical for 12 years, I started with the company as an agency picker / packer. Within the first few years I was in charge of my own unit, in 2012 all the units merged into one building, I was part of the project team to set up the warehouse. I was the first FLM (first line manager) in the new site. Then I was appointed Goods In Manager. In December 2019 I was appointed as the Warehouse Manager.
Which IoSCM course did you study, and why did you chose IoSCM and that course? 
I studied the IoSCM Level 3 supply chain and operations Diploma. I sat with my manager to look at my development as I had been asking for further development but had not had the opportunity before. It was really important to me as I wanted to progress within the organisation. I had done most jobs within the warehouse & thought that it would be good to gain a recognised qualification in those subjects.
Have you been able to use your learning within the workplace? 
I have been able to put a lot of my learning into use within the warehouse with planning projects, product placement & looking at ways of doing things. It has also helped me work in better with developing my team.
Would you recommend your course and studying with IoSCM to other professionals looking to develop themselves? 
I would definitely recommend for anyone to sign up with IoSCM and develop themselves with any of the courses on the website.
How have you found your learning experience overall? 
From start to finish I have found the learning most beneficial & informative, it also helped me to think for myself while doing the modules. The tutors were very helpful & gave brilliant feedback when something needed doing.
Congratulations on achieving your professional qualification David from the team at IoSCM.
Why not visit our course pages to find out more about the IoSCM Level 3 Diploma or any of the other qualifications we have available?