The Suez Canal, one of the world's most crucial shipping routes has been blocked after a 400m long container ship ran aground at around 05.40 GMT Tuesday 23rd March. According to its operator, the MV Ever Given was battling high winds and low visibility when it got stuck in the waterway.
The canal's authorities are working to free the vessel as quickly as possible, as a gridlock of ships has already built up on either side of the container ship. The 120 mile long canal is one of the most trafficked waterways in the world as the maritime trade route is used by vessels carrying everything from crude oil to consumer goods. The Suez Canal provides the shortest shipping route between Asia and Europe by connecting the Mediterranean and the Red Sea.
Images released by the Suez Canal Authority show the vessel's hull is firmly wedged into a banking. Work to free the vessel began almost immediately; however, attempts so far have been unsuccessful.
It is believed that The Ever Given, which weighs around 224,000 tons, became grounded early Tuesday amid poor visibility caused by a dust storm and as wind speeds reached 40 knots, resulting in a "loss of the ability to steer the ship,".  The ship is en route to Rotterdam after leaving the Yantian district in China. The three year old vessel, which is operated by Taiwanese transport company Evergreen Marine, has so far travelled through Taipei and Malaysia, and was set to arrive in the Netherlands port on 31 March.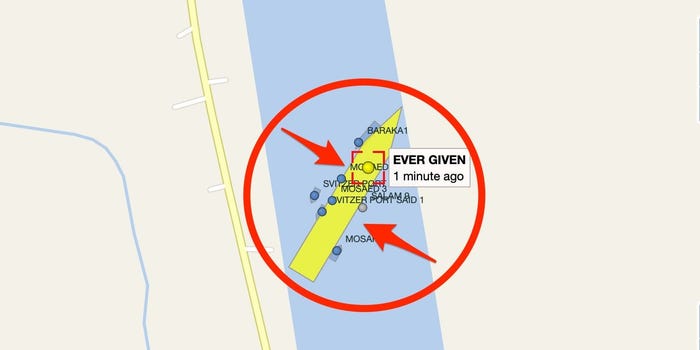 The ship has been unable to turnaround despite several refloating attempts. Seven tugboats are on-hand to aid the rescue mission of the vessel. It is not yet known how long it is likely to take to get the Ever Given back on course and enable the backlog of ships to travel through the canal to their destinations. The authorities in Eygpt have opened an old waterway to allow some of the vessels to pass around the obstruction.
Bernhard Schulte Ship Management (BSM), technical manager for Evergreen, have confirmed that all crew are safe and accounted for and there are no reports of injuries or pollution.
Around 12% of global trade and 8% of liquefied natural gas pass through the canal, as do around one million barrels of oil each day. It is therefore crucial that the waterway is cleared as quickly as possible to minimise disruption in the shipping lanes during a time when the global supply chain is already battling heavy delays and obstacles due to events like COVID-19 and Brexit.
Article by Kimberley Jayne, Communications Manager at IoSCM.