We all know the realm of consumerism is changing. We've seen it on the high street with physical stores being overpowered by the insurmountable wave of e-Commerce. Progress can be cruel, but customers all over the world are modernising their shopping habits. And who can blame them? With next day delivery being virtually standard and a host of high quality choices many new demands are placed on the transportation industry behind our one – click culture. How will it rise up and meet the demands of this brave new world?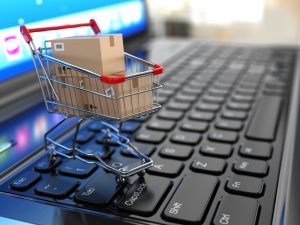 It's difficult to pinpoint the causes for the change, is it a case of sheer convenience? Or perhaps it's down to retailers pushing the culture shift to get at the vulnerable underbelly of once immortal competitors? Exactly what's driving this culture change is open to debate.  But with working hours matching shop opening times coupled with the ever increasing sanctity of the weekend, shopping with e-Commerce is rapidly becoming the preferred alternative to shopping in-store.  But we all know this, if anything it's old news. But the ever-mounting pressure on the behind the scenes, the rapid transportation of an increasing number of consumer goods, is still a must solve issue.
In order for e-Commerce to succeed, rapid fulfilment of customers' orders is essential. This places the strain squarely on the shoulders of the logistics and transportation network, making them more important than ever. Competitive edges are important, driving innovative technology at every stage of delivery in order to adapt to the changing conditions of consumerism.
From the start of the process of delivery, warehouse management systems enable quick and easy acceptance, processing and order fulfilment across the entire e-Commerce envelope.  Not only that, but with every order logged into the system, customers can track their purchases and receive live updates on estimated delivery times.
This of course requires the investment of resources. New demands mean an increase of investment and this is no exception, monetary or otherwise, resources are spent to meet the consumer's shift. There's an industry-wide focus on integration to properly manage spent resources, ensuring complex e-Commerce systems are transparent, becoming one customer-friendly channel. Whilst technology is a vital part of the process, ironically, the biggest challenge of the e-Commerce revolution is a capacity issue… and all this during a recession!
It was the recession that prompted a lack of investment in build facilities, causing an emerging shortage of suitable warehouses, which continues to spiral through driving demand and rental prices up as well as the length of lease on premises. Simply put, the industry did not see the e-Commerce revolution being as big during an economic downturn, and continues to literally pay the price.
Today, with space in short supply and the economic recovery delivering higher volume orders, maximising capacity and driving efficiencies has never been more important.
Geographically, the UK is uniquely placed to provide a leading service for trade with the EU. The close proximity to the continent means businesses can easily export to all major European countries. Whilst a nationwide emphasis on technological innovation means there is real potential to develop solutions to improve and streamline the whole process.  As we all know, getting goods from A to B isn't as simple as it sounds; orchestrating the entire fulfilment process requires a genuine commitment to offering industry leading expertise. Retailers and consumers alike want a service that's as comprehensive as possible.
It requires an all-inclusive approach: everything from frontend web development, through live order tracking, customer services and ultimately, distribution.  This is in stark contrast to the perhaps outdated adding value through additional services approach. Today's marketplace requires an integrated approach. It enables small and medium-sized enterprises (SMEs) to compete with bigger providers and enter new markets without the heavy investment usually associated with establishing suitable infrastructure.
All this is due to the modern prevalence of E-commerce, changing the nature of our industry.  Transportation, a sector once shrouded in the cloud of B2B and competing giants, is becoming a meritocratic, with talents, innovation and hard-work being rewarded. It is an increasingly vital component in consumer retail, particularly when businesses target expansion abroad. As always, it's a combined approach which is set to win the day: thorough warehouse maximisation, live order tracking, innovation and service expansion, transportation can rise to the challenge and meet the demands of a brave new world for consumerism. Whether it does so whilst managing the current driver crisis shortage remains to be seen.