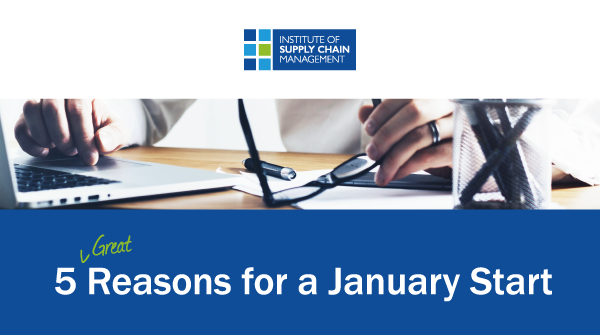 1. Employers are on the lookout
Did you know that you can add your IoSCM qualification and Membership to your CV from the day you begin your studies? Make your CV stands out to employers and recruiters this January with two little words: currently studying.

2. New Year, New Career 
January is a time of resolutions, fresh starts and high motivation. Changing careers can be daunting, and difficult, when you're settled into the daily routine of working – take advantage of a new beginning, and start moving towards your new career. 

3. It's all so quiet…
Life is busy, especially when you have work or family commitments (or both!) Starting a course at the beginning of the year, when everyone is in hibernation and committed to a lot of doing nothing, really could be just what you need to make a successful start to your studies.

4. Complete your studies by September 2020
Online learning means you're not restricted by traditional term times, and we think that's great. Our average course completion time is around 9 -12 months, which means you could be finished your studies before those opting for College or University, or even open a book.

5. Receive priority access to our brand new Bite-size courses
2020 is bringing a whole wealth of brand new resources, support benefits and learning material – enrolling across January means you'll be one of the first to access our newest material.
Speak with a dedicated course advisor today.
Telephone +44 (0)800 1422 522
Email info@ioscm.com